Aesthetix IO TUBE PHONO STAGE
Io is an all-tube phono stage suitable for the most demanding cartridges including low-output moving coils. A proprietary differential circuitry design achieves high gain with extremely low noise. A separate power supply chassis removes any possibility of transformer noise corrupting delicate audio circuitry. Peter Moncrief Stealth Capacitors are used in the Eclipse Edition for unparalleled sound quality. An optional innovative mechanically-switched discrete resistor volume control yields precise resolution at all listening levels.
High gain / low noise capable of handling low output moving coils.
Zero feedback.
80dB maximum gain, internally selectable down to 56dB.
Flexible user selectable loading on the back panel from 47Kohms down to 10ohms.
All tube amplification and output (16 tubes total).
Separate vacuum tube regulated power supply utilizing 8 tubes.
Two sets of XLR and two sets of RCA outputs per channel.
Input can be either RCA or XLR.
Optional: Innovative and unique mechanically switched discrete resistor volume control with 46 positions using Roederstein resistors, one for each channel.
JUPITER ECLIPSE EDITION
Jupiter Series Io phono stage and Callisto linestage are available in (and factory upgradable to) an Eclipse Edition. The Eclipse transformation takes already industry standard setting products to a whole new level of performance. Io, Callisto and their respective power supply receive enhanced internal parts, improved chassis construction, and stunning customizable casework.
Stealthcap Capacitors
Musical signals passing through a capacitor are blurred or clouded as signal reflections bouncing off the capacitor plate corrupt the original musical signal. StealthCap capacitors created by Peter Moncrief aim to cure this problem by dramatically reducing reflections along the capacitor plate. The "Stealth Technology" is made possible by a combination of laborious precision handiwork and costly exotic materials including new conductors, dielectrics, and composite resins. The resulting signal has a quieter background, rich and detailed spatial imaging, time focused musical coherence, and a broader more impactful dynamic range. The Io Eclipse uses eight .22uF / 600v Stealth coupling capacitors made of exotic copper foil. These are used between the second and third gain stages, and the third gain stage and output stage. The Io and Callisto Eclipse output stages also use eight 4uF / 400v Stealth capacitors in a unique balanced configuration.
Chassis Construction
Eclipse Edition chassis feature an extremely rigid and acoustically damped design, delivering new levels of articulation and clarity. Three separate side and top panels are machined from aluminum billet. Each panel is constrain layer damped with advanced 3M adhesives, requiring a labor intensive application of heat and pressure for proper mating. Advanced interlock material and machine screws are used to attach the panels for easy tube access. Harmonic Resolution Systems Nimbus Couplers, specially made for Aesthetix, are used to intimately couple the chassis with the equipment rack, greatly reducing mechanical noise.
Casework Design and Customization
Eclipse editions feature a stunning multi-piece front panel which includes detailed machining of the front panel casing, inlay and logo. Jupiter Eclipse customers may personalize the appearance of their unit by selecting metal finishes for the faceplate, rings, knobs, dials and logo. Use our interactive online tool to design your own Io or Callisto Eclipse.
ECLIPSE IMAGE GALLERY
click any image to enlarge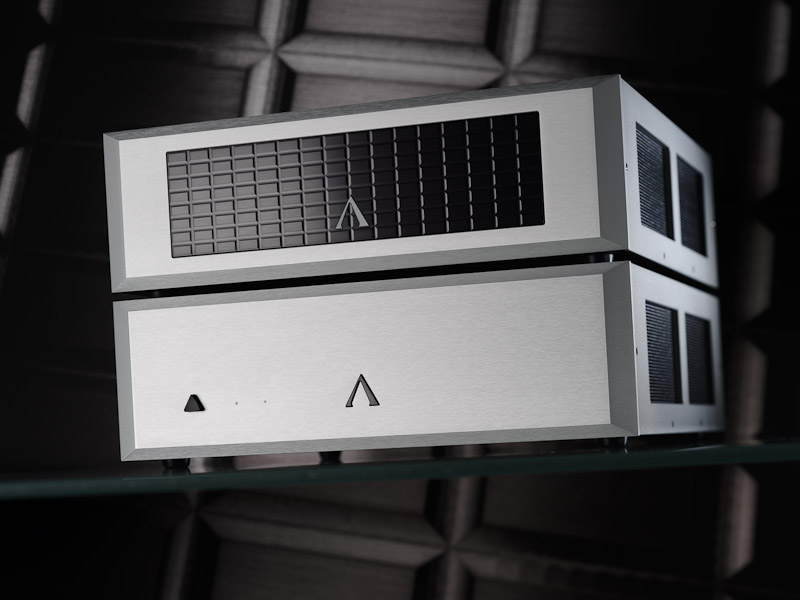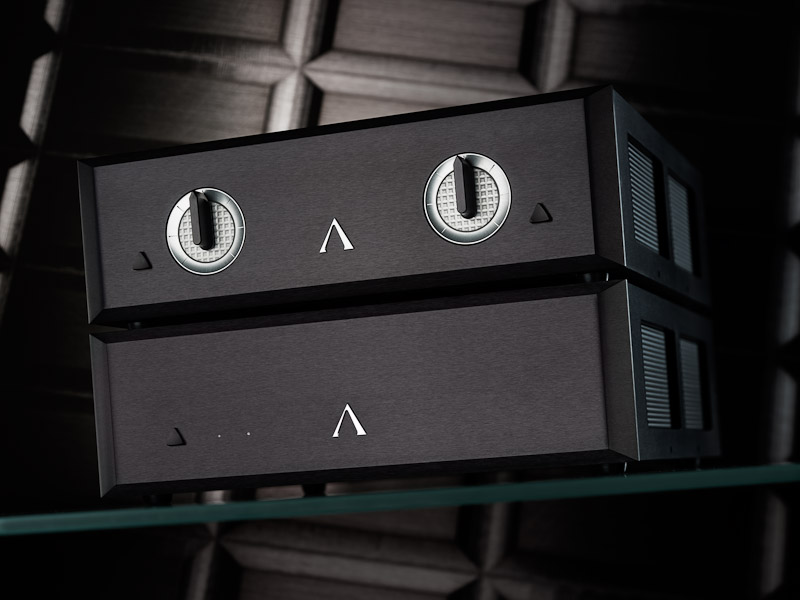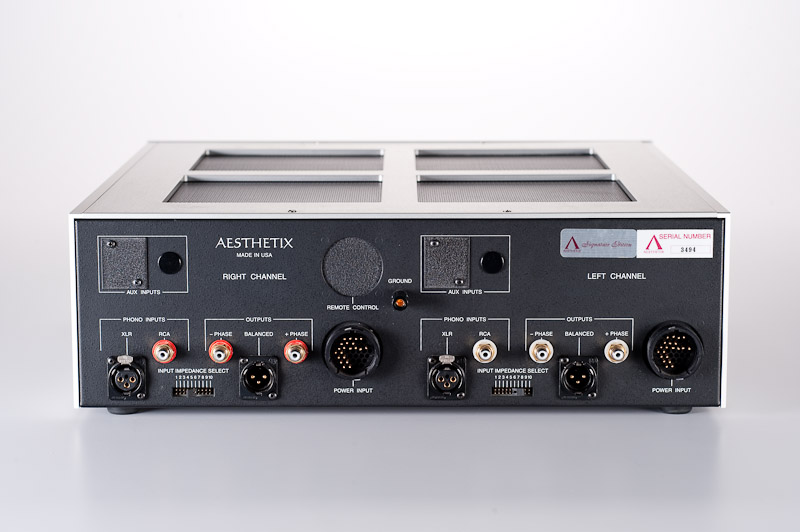 JUPITER POWER SUPPLY DETAIL
One defining characteristic of the Jupiter Series is separate power supplies. Each main unit, or audio chassis, is dual mono in construction; there are completely separate left and right audio boards and each has its own power connector on the rear of the chassis. Each main unit requires at least one power supply, a single power supply cannot power both an Io and a Callisto.
There are two versions of power supply available: Stereo or Dual Mono. In the stereo configuration, a single power supply powers both audio channels and has two power connectors on the rear. In the Dual Mono configuration, two separate power supplies are used, each with a single power connector. In the Dual mono configuration, the unit becomes pure dual mono, all the way down to the ac wall connection!
The Jupiter Series Power Supply is the size of a power amplifier and weighs approximately 50 pounds. The Power Supply has two main sections, the heater supply and the high voltage plus and minus supplies. At the heart of the heater supply is its massive, low flux, 210 VA power transformer which has fourteen separate secondary windings that are individually regulated and supply both the Power Supply and main unit heaters. The high voltage supply is composed of a similar massive 170 VA transformer which feeds a common-mode choke input filtering network and then high current vacuum tube regulators (one EL34/6CA7, three 12AX7 tubes per regulator). Each regulator is capable of supplying 600 volts at 100mA. There are two such regulators in the Power Supply. Each separate amplification or buffer stage has its own power supply filtering network and regulated heater supply to isolate individual sections and prevent stage interaction.
| | |
| --- | --- |
| Second Eclipse Power | 8.680.00 |
IO VOLUME CONTROL
The Io may optionally be configured with volume controls and a line-level input, suitable for a CD player or other line-level source.
The volume controls are dual mono and identical to those in the Callisto. Each volume control consists of four silver contact Shallco 46 position switches ganged together in a unique configuration. Each switch consists of 46 Roederstein resistors for a total of 184 Roederstein resistors per channel! All other volume controls sound different at lower levels than they do at higher levels, due to non-linear elements or the number of solder connections and resistors the signal must traverse. Aesthetix unique configuration means that the sound quality is the same at lower levels as at high levels.
With the option of volume controls comes a high level input. This input is balanced or single-ended, with both XLR and RCA jacks provided. A single-ended input will be balanced by the Io.
Any Io, of any version or age, may have volume controls added as a factory upgrade.
| | |
| --- | --- |
| Io Eclipse Phono w/Volume | 29.760.00 |
IO SPECIFICATIONS
Inputs: one phono input, RCA and XLR jacks provided
Inputs (with volume control option): one line level balanced input, RCA and XLR jacks provided
Outputs: 2 RCA (SE) and XLR (balanced)
Gain: 80dB maximum
Volume control (optional): switched resistor network volume control with 46 steps
Frequency response: +- 0.25 dB, 20 Hz - 20 Khz
Signal to noise: 70 dB minimum, A-weighted (ref 1 mv input, 80 dB gain setting)
Input impedance: 10 ohms - 47K ohms (adjustable)
Output impedance: 1K ohms SE, 600 ohms balanced
Recommended load: 10K ohms or greater (SE), 20K ohms or greater (Balanced)
Tubes, each channel: V1-V6 (12AX7); V7 (6DJ8 / 6922); V8 (6SN7)
Power consumption: 350 watts

Physical dimensions: 
Main unit, MkII or Signature: 5 5/8" high, 19" wide, 18 1/2" deep including jacks
Main unit, Eclipse: 5 1/2" high, 17 1/2" wide, 18 1/2" deep including jacks
Power supply, MkII or Signature: 5 5/8" high, 19" wide, 18 1/4" deep
Power supply, Eclipse: " high, " wide, " deep including jacks

Shipping weights: 
Main unit, MkII or Signature: 32 lbs.
Main unit, Eclipse: 37 lbs.
Main unit, MkII or Signature w/vol: 38 lbs.
Main unit, Eclipse w/vol: 45 lbs.
Power supply, MkII or Signature: 50 lbs.
Power supply, Eclipse: 55 lbs.

Specifications subject to improvement or change without notice.
IO TECHNICAL DOCUMENTS
Io Owner's Manual
Io Owner's Manual - with Volume Control
Io Tube Placement
Io Important Notice
Io with Volume Control - Gain by Volume Position (dB)
Io Auxiliary Input Addendum
IO REVIEWS & ACCOLADES